SWD9007 traffic tunnel special fire retardant polyurea anticorrosion protective coating
Product Detail
Product Tags
Product features and advantages
*Solvent free, 100% solid content, safe, environmentally friendly and odor free.
*Rapid cure, can be sprayed forming on any bent, slope and vertical surfaces, no sagging.
*Dense coating, seamless, with good flexibility
*High adhesive strength, can fast bond well on many substrate like steel, concrete, wood, fiber glass etc.
*Excellent impact resistance, abrasion resistance
*Excellent corrosion resistance and chemical resistance to acids, alkali, salts etc.
*Excellent waterproof performance
*Good shock absorbing performance
*Excellent resistance to temperature variation
*Fast cure, application site back to service quickly
*Excellent durability to reduce maintenance cost of service life
*Extend the service life of sprayed structure
Fire retardant anticorrosion waterproof protection of railways, road, urban subway and other transportation facilities.
Item

A

B

Appearance

Pale yellow liquid

Adjustable color

Specific gravity (g/m³)

1.12

1.22

Viscosity (cps) @25℃

800

880

Solid content (%) 

100

100

Mix ratio (by volume) 

1

1

Gel time (second) @25℃

4-6

Surface dry time (second)

15-40

Theoretical Coverage (dft)

1.08kg/㎡ Film thickness 1mm
| | | |
| --- | --- | --- |
| Item | Test standard |  Result |
| Hardness (Shore A) | ASTM D-2240 | 92 |
| Elongation rate(%) | ASTM D-412 | 180 |
| Tensile strength(Mpa) | ASTM D-412 | 8 |
| Tear strength (N/km) | ASTM D-624 | 60 |
| Impermeability(0.3Mpa/30min) | HG/T 3831-2006 | impermeable |
| Wearable(750g/500r)/mg | HG/T 3831-2006 | 1.2 |
| Adhesive strength(Mpa)concrete base | HG/T 3831-2006 | 3.2 |
| Adhesive strength(Mpa) steel base | HG/T 3831-2006 | 11.3 |
| Density(g/cm³) | GB/T 6750-2007 | 1.08 |
| Cathodic disbondment [1.5v,(65±5)℃,48h] | HG/T 3831-2006 | ≤15mm |
| Fire retardant | GB8624-2012 | B1 |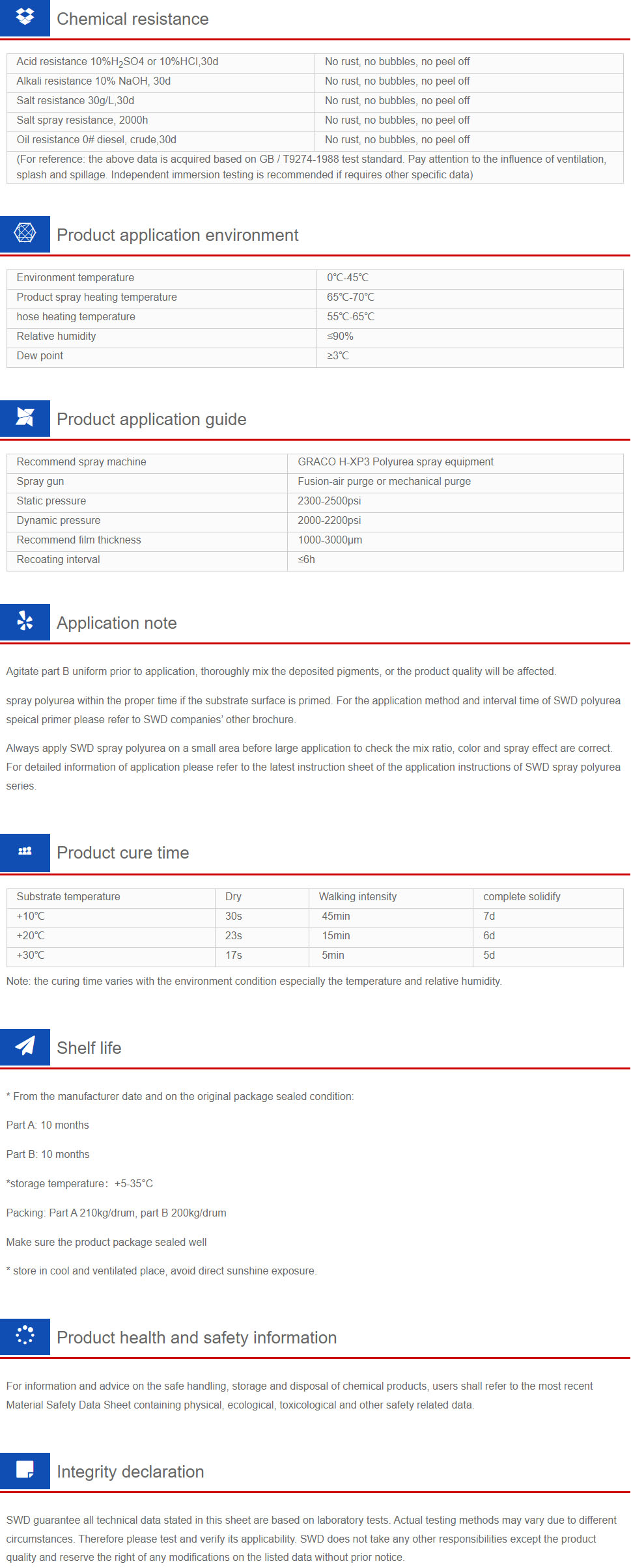 ---
---
Write your message here and send it to us