SWD8032 solvent free polyaspartic anticorrosion coating
Product Detail
Product Tags
* high solids, low density, with good leveling, the coating film is tough, dense, full bright
* excellent adhesive strength, good compatible with polyurethane, epoxy and other material.
* high hardness, good scratch resistance and stain resistance
* excellent abrasion resistance and impact resistance
* excellent anticorrosion property, resistance to acid, alkali, salt and others.
* no yellowing, no color change, no pulverization, anti-aging, it has excellent weather resistance and light and color retention.
* can be used as a topcoat direct to metal surface (DTM)
* this product is environmentally friendly and contains no benzene solvents and lead compounds.
* can be applied in the low temperature of -10℃, the coating is dense, fast cure.

Item

A component

B component

Appearance

light yellow liquid

Color adjustable

Specific gravity(g/m³)

1.05

1.60

Viscosity (cps)@25℃

600-1000

800-1500

Solid content (%)

98

97

Mix ratio (by weight)

1

2

Surface dry time (h)

0.5

Pot life h (25℃)

0.5

Theoretical coverage (DFT)

0.15kg/㎡ film thickness 100μm
Typical physical properties
| | | |
| --- | --- | --- |
| Item | Test standard | Results |
| Pencile hardness |   | 2H |
| Adhesive strength (Mpa) metal base | HG/T 3831-2006 | 9.3 |
| Adhesive strength (Mpa) concrete base | HG/T 3831-2006 | 3.2 |
| Impermeability |   | 2.1Mpa |
| Bending test (cylindrical axis) |   | ≤1mm |
| Abrasion resistance (750g/500r) mg | HG/T 3831-2006 | 12 |
| Impact resistance  kg·cm                 | GB/T 1732 | 50 |
| Anti-aging, accelerated aging 2000h | GB/T14522-1993 | Loss of light<1, chalking <1 |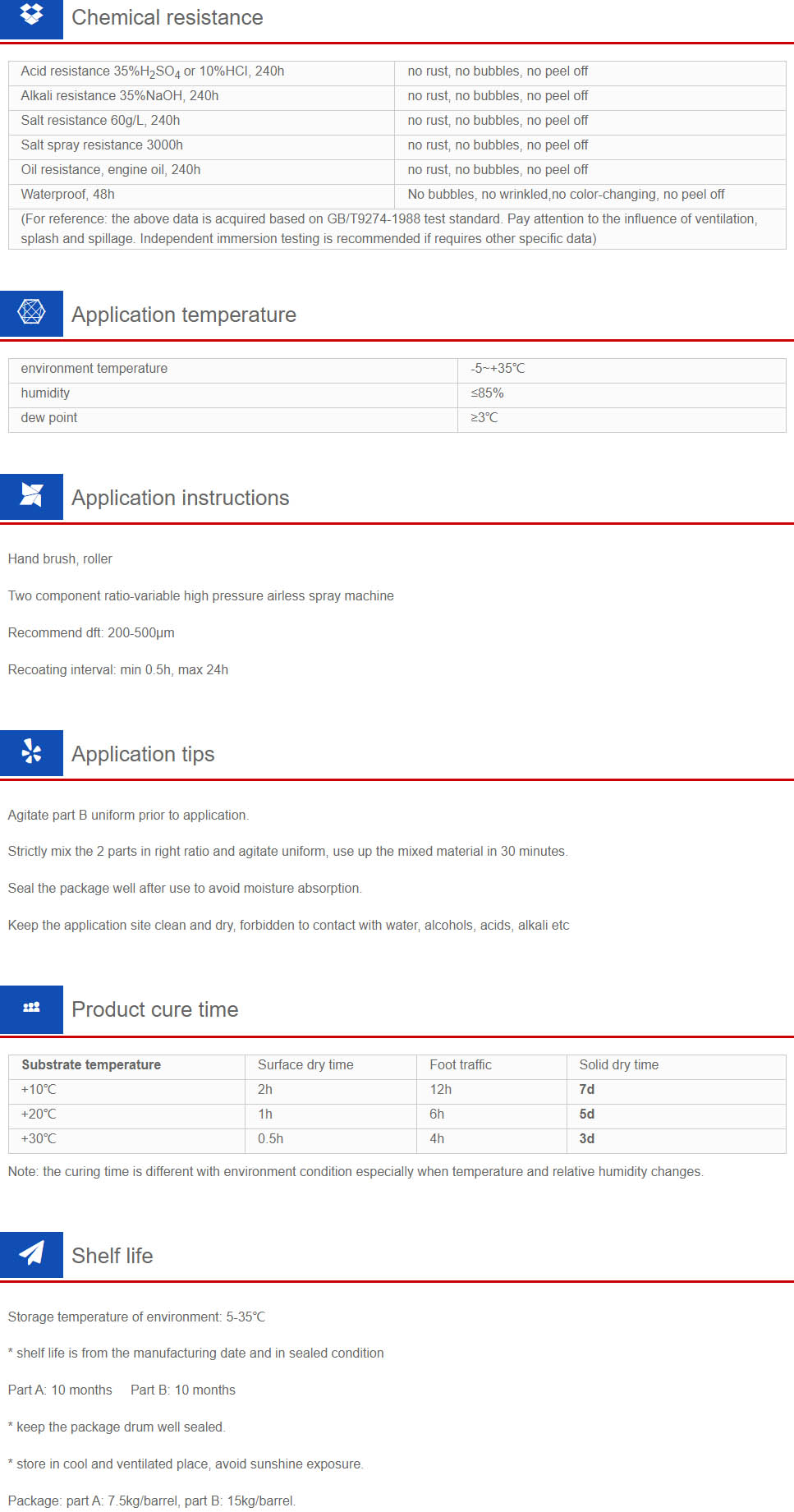 ---
---
Write your message here and send it to us